PUBLIC NOTICE ADS / LEGAL NOTICE ADS
Publish Your Public Notice ads for 890/- only in 2 Newspapers!!!
1) Do you wish to Place a Public Notice ad or a Legal Notice ad in the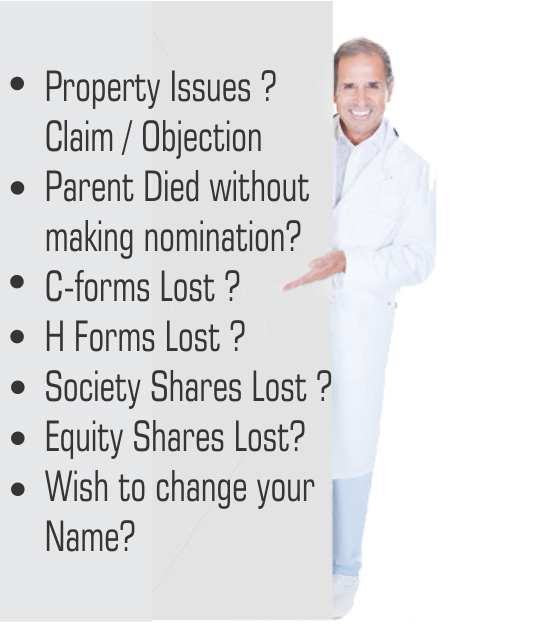 Newspaper ?
2) Have you Lost / misplaced your society share certificates ? Or are you applying for a Duplicate Share certificate of Housing society? Want to place a newspaper Advertisement for lost certificates?
3) Has your Father / Mother died without making any nomination of your Flat ? OR Member died without making nomination? 
4) Would you like to sell / buy a Flat / Land & wish to place an ad in the newspaper inviting objections / claims from someone related to the flat ?
5) C-Forms Lost ?
6) H-Forms Lost ?
7) Do you wish to change your name for application for passport etc ? Are you Applying for Gazette Name change? Do you wish to place a Name change ad in Newspaper for Passport?
8) Is there  Loss of Documents? Have you lost your certificates For Eg. property papers lost? School /  college Marksheets lost? etc
9) Do you wish publish  a Lost and  found advertisement  ?
Publicnoticeads.in was designed keeping in mind that a large number of people require public notice ads to be placed in newspapers. In such circumstances either the information available for public notice ads is either incorrect or the cost incurred for such ads is extremely high.
Public Notice being a formality, is required by a number of goverment organisations, courts and housing societies. The genuine customer is willingly or unwillingly forced to shell out huge amounts to agents who take advantage of his lack of awareness or the pressure that builds up to fulfil the formality.
Solutions to All your above problems is now a step away
We at https://www.publicnoticeads.in help you with all your newspaper needs with free guidance to the choice of the newspapers be it for :
Public Notice ads in Newspapers

Legal Notice ads in Newspapers

public notice format in English, Marathi, Hindi and other Languages

Name change ads

Name Change Gazettes

newspaper advertisement for loss of share certificate

Company Shares / Equity Shares Lost ads

Public Notice for Purchase/Sale of Property

Public Notice investigating the title of property

Property dispute ads

C-forms lost ads / C Form formats

H-forms lost ads / H Form Formats

Documents lost ads, etc
Note : 890/- is a GENUINE rate for Mumbai based public notice ads. For other cities rates are different as per the popularity, circulation and readership of that geographical location. You are advised to kindly contact us on 09821566223 for rates in other regions or  email us your ad matter at publicnoticeads@gmail.com to get the rates for your desired location.
Procedure For Booking Public Notice ads in Newspaper :
Lets say you have a Public Notice ad to be released.
Step 1  : Call us on 9821566223 for Guidance/Help for how to go about it. We'll guide you with How to Publish your Publish Notice ad.
OR
Step 2 : You may already have the draft of the ad ready with you given by your Society / Lawyer or Or you may have copied it from one of the newspaper clips. Just fill in Form provided. 
If your Form  reaches us during office hours between 10.30 to 8 pm you shall immediately be given quotation along with FREE ARTWORK  within 3o minutes to 2 hrs time.
We give options of few combination Newspapers of 1 English and 1 Local Newspapers. Once you approve of the Ad matter and Budget. You'll have to transfer the payment. Ad shall appear next day or the day of your choice.
Reasons for Placing Public Notice ads
Public Notice for Society Share certificate lost :
One needs to apply for a Duplicate share certificate with the society, if the Original share certificate gets lost. The Procedure for applying for duplicate share certificate is simple and easy. The Process takes approximately 15-20 days to get a duplicate share certificate. Step no-1 : Indemnity bond for loss of share certificate of housing society has to be made and submitted to the society Step -2. Register an FIR with the police station. Step no-3. Publish a Loss of share certificate advertisement in 2 Newspapers and submit it to the Society. The cost of the ad starts from 890/- onwards.  Once the lost share certificate ad is published it needs to be submitted with the society. The society waits for a Period of 15 days and than issues a duplicate share certificate.
C forms lost advertisement format
How do you Publish a Public Notice ad for C forms lost?
1. Intimate your sales tax office for the lost of C form. 2. Intimate your purchaser and give the following documents for issuing duplicate C form. 3. Indemnity bond (form G), Indemnity Bond on Non – judicial Paper. (The prescribed form of Indemnity bond is in Form G.) 4. Advertisements copy one should be of English and one should in local language for lost of C form giving full description of "c" form. 5. FIR copy of lost C form. 6. Request for issuing duplicate C form to your purchaser. (All Invoice Photocopy & GR Photocopy with above documents submit to department and get other C Form.)
Public Notice when Member Dies without making any nomination :
Many a times member of the family dies without making any nomination of the flat. In such circumstances the society requests the  heirs of the family  to publish a Public notice in 2 newspapers inviting the public against any claim / objection  for transfer of Shares and interest of the deceased member in the claims property of the Society. If no claims/objections are received within the period prescribed  the Society becomes free to deal with the Shares and the interest of the deceased member in the capital / property of the Society in such manner as is provided under the bye laws of the society. 
Public Notice for Claim against legal heirs of the property
A good example in this case can be that the Property is in the name of the Father. he expires and the family has 2 sons and 2 daughters. All the heirs wish to transfer the said flat in the name of one of the Son. They publish a notice ad in 2 newspapers inviting claim or Objection against legal heir of the said property.
Public Notice for Property :
Some Transactions are not Registered. To check such transactions it is advisable for the purchaser to Publish Public Notice ads in Two News papers and ask for Objections this helps the purchaser advocate to satisfy him self about the title of the property. Claims are invited in the nature of mortgage, lien, charge, lease, easement, gift, trust, or any other claim against the property which is required to be notified to the buyers advocate within a period of 15 Days after which it shall be deemed to have been waived. Such Public Notice supports the buyer's contention in the case of dispute that he is a bonafide purchaser for value without notice of any claim.
Public Notice for Loss of Documents :
In this fast paced life you hear people complaining that their essential documents have been lost while travelling or due to an accident. The first step is to lodge a police complaint. Thereafter, issue a public notice for loss of documents ad in two leading newspapers, preferably in an English language and a vernacular one, stating the loss of document. Depending on the newspapers you choose, this will cost you from 890/- onwards. Remember to keep a copy of the complaint as well as the press clippings with you as proof of loss. These  can be submitted in the relevant departments to apply for a duplicate.
Name change ads :
People change their names for variety of reasons. The most common reasons for change of name are as  follows :
change of name because of marriage

Name change after divorce

Name change due to spelling error

Change of Name/surname /middle name

Change of name for minors in school, college

Change of name due to astrology / numerology

Name change in pan card, adhar card, ration card, banks, LIC etcc
Change of name ad needs to be published only in case if you are applying for the passport. In rest of all other cases one needs to make a gazette also called as egazette which is sufficient proof in almost all government departments. If you wish to publish a name change ad you need to make a deed poll affidavit also called as annexure E and submit it to the publication / agency to publish your ad. Once the ad is published, the newspaper copies and the original affidavit has to be submitted at the passport office. Step by step process to publish name change are explained at https://www.changeofnameads.com charges start 350/- only
Disclaimer : Every Care is taken to see that the ad is published correctly in the newspaper However in case of Ads getting Misprinted  the same shall not be reproduced again in the newspapers as public notice ads are Non – Response based ads and a formality to be fulfilled as such in such circumstances a CORRIGENDUM with proper corrections shall be published  in the Newspaper FREE OF COST from our end.