PUBLIC NOTICE ADS / LEGAL NOTICE ADS
Publish Your Public Notice ads for 890/- only in 2 Newspapers!!!
1) Do you wish to Place a Public Notice ad or a Legal Notice ad in the
Newspaper ?
2) Have you Lost / misplaced your society share certificates ? Or are you applying for a Duplicate Share certificate of Housing society? Want to place a newspaper Advertisement for lost certificates?
3) Has your Father / Mother died without making any nomination of your Flat ?
4) Would you like to sell / buy a Flat / Land & wish to place an ad in the newspaper inviting objections / claims from someone related to the flat ?
5) C-Forms Lost ?
6) H-Forms Lost ?
7) Do you wish to change your name for application for passport etc ? Are you Applying for Gazette Name change?
8) Is there  Loss of Documents? For Eg. property papers lost? School /  college Marksheets lost? etc
9) Do you wish to have a Lost and  found advertisement format ?
Publicnoticeads.in was designed keeping in mind that a large number of people require public notice ads to be placed in newspapers. In such circumstances either the information available for public notice ads is either incorrect or the cost incurred for such ads is extremely high.
Public Notice being a formality, is required by a number of goverment organisations, courts and housing societies. The genuine customer is willingly or unwillingly forced to shell out huge amounts to agents who take advantage of his lack of awareness or the pressure that builds up to fulfil the formality.
Solutions to All your above problems is now a step away
We at publicnoticeads.in help you with all your newspaper needs with free guidance to the choice of the newspapers be it for :
Public Notice ads

Legal Notice ads

Change of name ads

Society share certificates lost ads

Property dispute ads

C-forms lost ads

H-forms lost ads

Documents lost ads, etc
Procedure For Booking Public Notice ads in Newspaper :
Lets say you have a Public Notice ad to be released. Just Email us your Text Matter at [email protected] provided to you by your lawyer or Society Or you may have copied it from one of the newspaper clips.
If your notice ad reaches us during office hours between 10.30 to 8 pm you shall immediately be given quotation along with FREE ARTWORK  within 3o minutes to 2 hrs time.
We give options of few combination Newspapers of 1 English and 1 Local Newspapers. Once you approve of the Ad matter and Budget. You'll have to transfer the payment. Ad shall appear next day or the day of your choice.
For More Details Call on 022-23734638 / 23708196 / 098215662233 or Email : [email protected]
Public Notice for Property
Public Notice in Times of  India
Public notice in Free Press Journal
Public Notice for loss of Documents
Public Notice Format (Download free)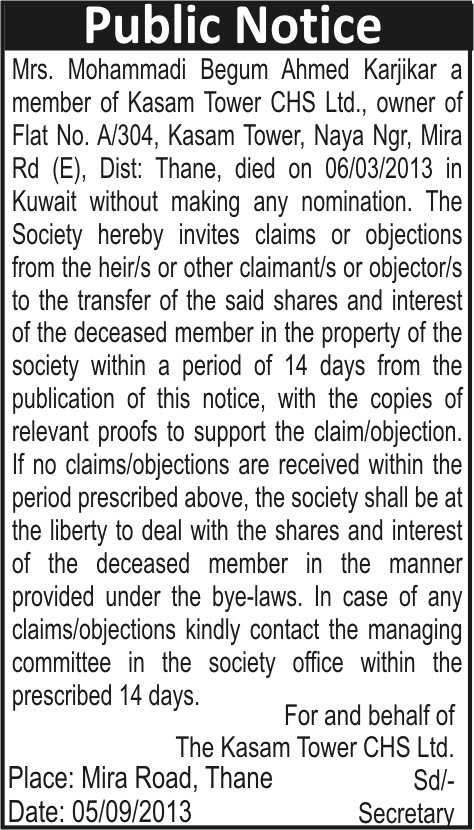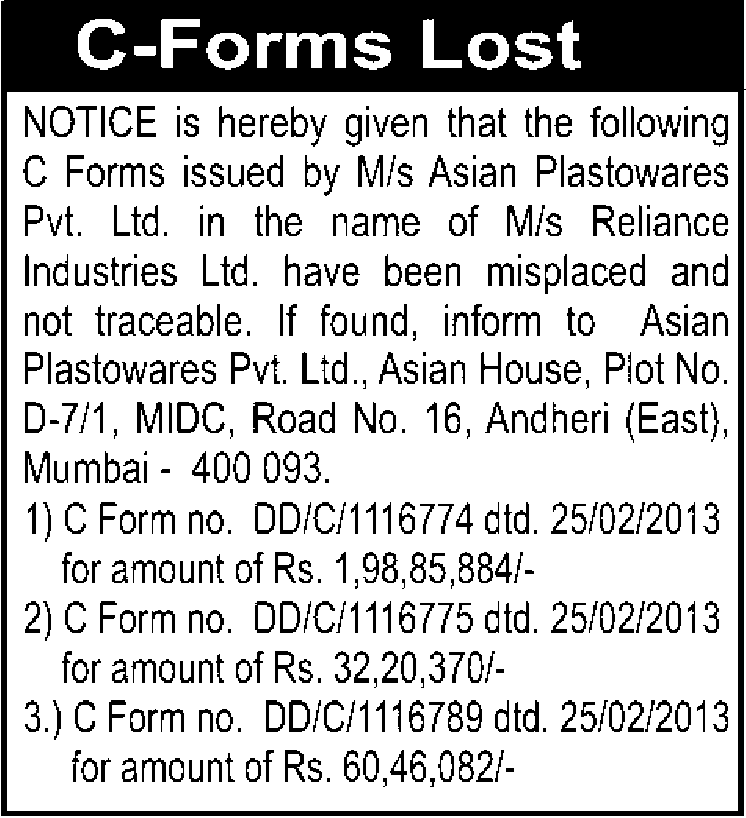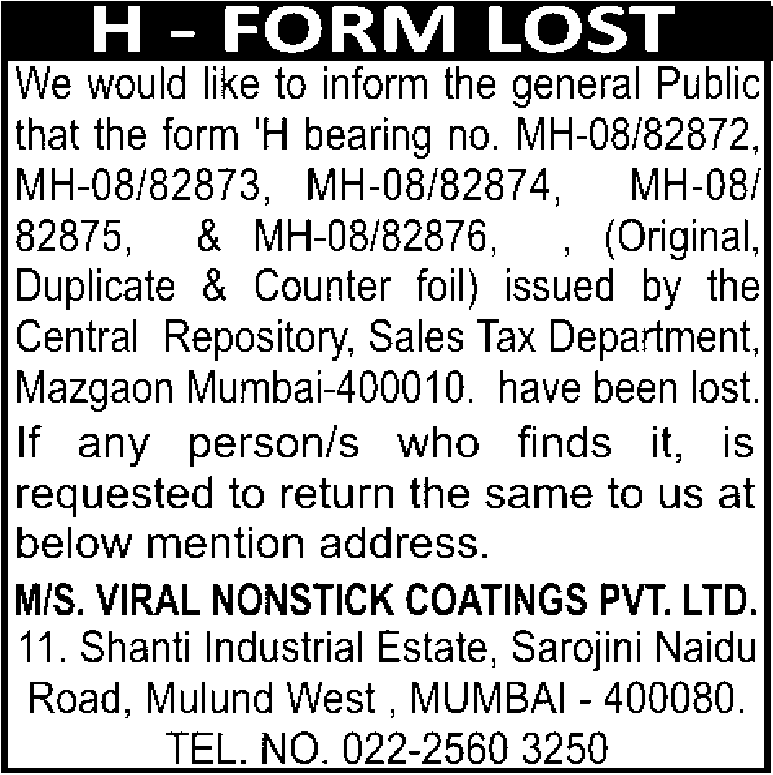 Payment Transfer details
M/s. Classic Advertising
(its a current A/c)
ICICI Bank
A/c no. 623505384698
IFSC Code: ICIC0006235
Fort Branch – Mumbai